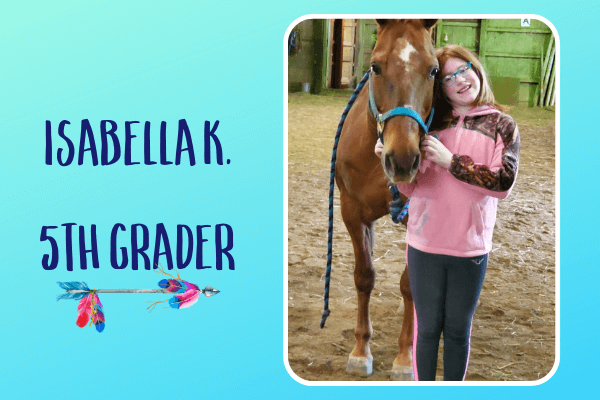 Isabella is a 5th grade student in the Baldwin-Whitehall School District with a warm personality and a huge heart! When at home Izzie enjoys cooking and loves to eat pasta. She is an animal lover and takes excellent care of her horse, Tex. She takes riding lessons and spends time riding Tex throughout South Park. She also competes in horse shows and has won many ribbons.
During her free time, Izzie likes to make YouTube videos & even has her own channel! Mindcraft is her favorite game. She enjoys playing outside with her friends and inside with her 6 kitties! Her favorite country song is "Girls and Horses." She is a member of the Choir at Whitehall which she likes very much. In the summer she participates in Little Lake Musical Theatre and visits her Nonnie & PapPap in North Carolina.
The one thing Izzie looks forward to each week during school is Fit Kids!! She has been attending for 3 years now and is such a positive leader during program. She always tries her very best and gives 100% in all she does. Izzie's huge smile when she walks in the room is contagious. She volunteers to help the Coaches at Fit Kids and seeks opportunities to be a positive leader within her group of peers. Izzie said she loves Fit Kids! We cannot wait to continue to watch Izzie grow and know she is going to rock it at Harrison Middle School next year!